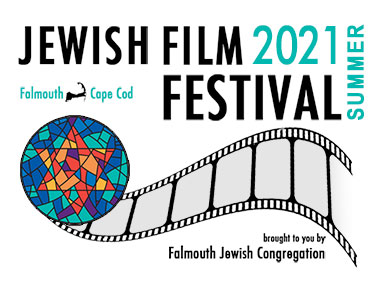 2021 SUMMER VIRTUAL JEWISH FILM FESTIVAL
Eye-opening, entertaining films and thoughtful, Zoom-based discussions
Announcing the 2021 Falmouth  VIRTUAL Jewish Film Festival
We regret that screenings are limited to members of Falmouth Jewish Congregation and its Brotherhood and Sisterhood. We look forward to welcoming back the public – hopefully – next summer.
Inspiring, entertaining films to view at home, with Zoom-based discussions
Many thanks to the Jewish Federation of Cape Cod for its generous sponsorship.
Zoom Conversations:
Zoom conversations are, like the festival, limited to FJC members and members of FJC Sisterhood and Brotherhood, all of whom will receive scheduling and log-in information.
MAKE A DONATION
Help Support the
Falmouth Jewish Film Festival
July 6     BREAKING BREAD
Documentary (Israel, 2020) Directed by Beth Elise Hawke 1 hr. 25min Winner – Best Documentary, JIFF Australia; Winner – Audience Award, Napa Valley Film Festival
An award-winning love letter to the food of the Middle East… simply delicious." – Jewish Journal, UK "Satisfying and insightful, visually arresting and inspiring." – Atlanta Jewish Times Check it out at www.breakingbreadmovie.com
Dr. Nof Atamna-Ismaeel – the first Muslim Arab to win Israel's MasterChef – is on a quest to make social change through food. And so, she founded the A-sham Arabic Food Festival, where pairs of Arab and Jewish chefs collaborate on exotic dishes like kishek (a Syrian yogurt soup), and qatayef (a dessert typically served during Ramadan). A film about hope, synergy and mouthwatering fare, Breaking Bread illustrates what happens when people focus on the person, rather than her religion and on the public, rather than the politicians.
July 13     ASIA
Drama (Israel, 2020) Directed by Ruthy Pribar 85 mins. Hebrew with English subtitles
"A hypnotizing performance by Shira Haas." – Eric Kohn, IndiWire
"A great film! A well-nuanced, genuinely heartfelt slice-of-life that is powerful, engrossing and profoundly human." Avi Offer, NYC Movie Guru
Winner of nine Ophir (Israeli Oscar) Awards, including Best Actress (Alena Yiv) and Best Supporting Actress (Shira Haas – of "Unorthodox" and "Shtisel" fame): Jerusalem Film Festival – Winner Best Actress (Alena Yiv) and Best Israeli First Film (Ruthy Pribar) Israel's submission for Best International Feature Film at 2021 Academy Awards
With her huge eyes and delicate physique, Shira Haas made an indelible impression as the lead in the TV series Unorthodox and as Ruchami in the series Shtisel. Here she stars as a Russian émigré to Israel, navigating her teenage years with her single mother (Alena Yiv), burdened by an illness that makes all of her decisions infinitely more poignant. First-time writer-director Ruthy Pribar does an exquisite job of defining the complexities of a mother-daughter relationship that eschews clichés and sentimentality. Instead, both actresses give riveting, yet understated performances that explore the inevitable chasm that divides the generations and creates barriers between the healthy and the sick – while limning a universal and timeless story of maternal love and loss.
July 20     A KADDISH FOR BERNIE MADOFF
Feature/Musical, (USA, 2021) 75 mins. Directed by Alicia J. Rose
Winner – Audience Award, Ashland Independent Film Festival; Winner – Visionary Award, Sarasota International Film Festival. "If Anna Deavere Smith, Sarah Koenig, and Joey Soloway wrote a self-reflexive musical about finance and religion, it might approach [this] film's impish, mystical spirit…it's a blessing." – The Atlantic
Now for something completely different and creative! An artistic excommunication set in 2008, A Kaddish For Bernie Madoff is a mystical meta-musical about the greatest financial fraud in history. A hybrid of musical memoir and narrative fantasy, the film tells the story of Madoff and the system that allowed him to function for decades through the eyes of musician/poet Alicia Jo Rabins, who watches the financial crash from her 9th floor studio in an abandoned office building on Wall Street. Fueled by her growing obsession, real-life interviews transform into music videos, ancient spiritual texts become fevered fantasies of synchronized swimming, and a vivid, vulnerable work of art is born from the unique perspective of an artist watching the global financial collapse up close.
July 27   HERE WE ARE
Drama (Israel, 2020) 92 mins. Directed by Nir Bergman / Hebrew with English subtitles
Winner of four Israeli Ophir Awards and Audience Awards at the Boston and Montreal Israeli Film Festivals and at numerous Jewish film festivals, including Atlanta, Palm Beach, Miami Pittsburgh, San Diego, and Philadelphia
Aharon has devoted his life to raising his son Uri. They live together in a gentle routine, away from the real world. But Uri is autistic, and now as a young adult it might be time for him to live in a specialized home. While on their way to the institution, Aharon decides to run away with his son and hits the road, knowing that Uri is not ready for this separation. Or is it, in fact, his father who is not ready?
August 3 AULCIE
Documentary (Israel, 2020) 75 min. Directed by Dani Menkin In Hebrew and English, with English subtitles
The story of Aulcie Perry, a basketball and Israeli legend. During the summer of 1976, Perry was spotted by a scout for Maccabi Tel Aviv while playing at the Rucker courts in Harlem and was quickly signed to play for their fledgling team. The Israeli players immediately responded to Aulcie's leadership and that year they had what one Sports Illustrated writer described as "the most extraordinary season in its remarkable history" and what Perry later called "the best nine months of my life." In 1977, Perry helped the team to its first European Championship, a prize they took four years later again under his leadership. At the same time, Perry started dating supermodel Tami Ben Ami, converted to Judaism, became an Israeli citizen, and became one of the country's biggest stars. But the dark side of fame led to a stunning downfall. Aulcie is the inspiring story of a basketball and Israeli legend and how he ultimately triumphed, despite the odds. A work of cultural as well as sports commentary, Aulcie conveys a vivid snapshot of the mood in Israel in the 1970's as seen through Aulcie's story.
Many thanks to the Jewish Federation of Cape Cod for its generous sponsorship.