2021 SUMMER VIRTUAL JEWISH FILM FESTIVAL
Eye-opening, entertaining films and thoughtful, Zoom-based discussions
Announcing the 2022 Falmouth VIRTUAL Jewish Film Festival
We regret that screenings are limited to members of Falmouth Jewish Congregation and its Brotherhood and Sisterhood. We look forward to welcoming back the public - hopefully - next summer.
Inspiring, entertaining films to view at home, with Zoom-based discussions
Many thanks to the Jewish Federation of Cape Cod for its generous sponsorship.
Zoom Conversations:
Zoom conversations are, like the festival, limited to FJC members and members of FJC Sisterhood and Brotherhood, all of whom will receive scheduling and log-in information.
MAKE A DONATION
Help Support the
Falmouth Jewish Film Festival
Week 1: IMAGE OF VICTORY
(Israeli Feature, Directed by Avi Nesher / Hebrew, Arabic, Spanish, 128 min.)
"A triumph of cinema... In more than two decades of professional movie reviewing and even more of movie-going, it is one of the best movies I have ever seen. You will leave the theatre filled with love and a desire to live life more fully." - Hannah Brown, The Jerusalem Post
Ophir Award Winner: Best Cinematography, Best Makeup, Best Costume Design
Nominated for 15 Ophir Awards, including Best Film
Shown at film festivals world-wide, including Toronto
Based on true events, celebrated Israeli filmmaker Avi Nesher's (The Other Story, Past Life) exhilarating anti-war epic revisits the story of the Battle of Nitzanim, a kibbutz in southern Israel, during the 1948 War of Independence. The Battle of Nitzanim, a doomed firefight and ignominious defeat for Israel, pitted the inhabitants of this southern seaside kibbutz against crushing Egyptian forces. Seen through the eyes of its two protagonists - an ambitious Egyptian filmmaker (Amir Khoury) on a mission to capture an image of victory for this king and country and a headstrong and impetuous heroine ((Joy Rieger - you'll recognize her from Valley of Tears, The Other Story and Past Life), a kibbutznik radio operator - the film tells the story from both sides of the conflict. Filmed in the Negev between COVID shutdowns, this stirring Best Cinematography winner features stunning visuals and audacious storytelling fusing drama, romance and history, while conveying the true human toll of war. Attend the brief discussion next Thursday to share your impressions.
Avi Nesher's award-winning films have played a major part in Israeli cinema's rise to prominence worldwide. Nesher has been honored as the recipient of many awards, including:
Best Director Award, Israeli Film Critic Association 2018
Lifetime Achievement Award, Israeli Ministry of Culture and Sport 2018
Excellence Award, Academy of Israeli Motion Pictures, 2021
Resources
Longform article about the historical background of Nesher's film from Eretz Magazine:
http://www.santafejff.org/wp-content/uploads/2022/05/The-Last-Letter04.pdf
Avi Nesher discusses Image of Victory:
https://www.msn.com/en-us/movies/news/israels-avi-nesher-discusses-his-new-film-image-of-victory/ar-AARThMZ
The Battle of Nitzanim
https://en.wikipedia.org/wiki/Battle_of_Nitzanim
A review with historical background, from The Times of Israel:
https://blogs.timesofisrael.com/image-of-victory-an-impressive-israeli-film/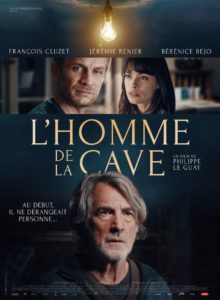 French Thriller - The Man in the Basement
(Thriller / France, Directed by Philippe Le Guay / French, 114 min)
Simon and Hélène Sandberg (Bérénice Bejo, The Artist) and their teenage daughter appear to be living the idyllic and comfortable Parisian life. When the couple decides to put up their unused basement storage cellar for sale, they have no idea what is in store for them and how their lives will forever change. Enter Mr. Fonzic (François Cluzet, The Intouchables), a seemingly unremarkable and well-mannered former history teacher, who shows up to buy the cellar ostensibly for his storage items. Unfortunately, the deal is quickly sealed before his references are checked. Upon learning that the man was fired from his high school job for teaching that the Holocaust was a hoax, the couple tries desperately to cancel the sale but to no avail. To make matters infinitely worse, Mr. Fonzic ends up living in the cellar and makes it his permanent residence. Slowly and methodically, the stranger's antisemitic world view emerges and ensnares Simon's very existence, driving him to more and more desperate strategies to evict the man. Impeccable acting and a nightmare scenario drive this tense and gripping thriller (based on a true story) to its logical and frightening conclusion.
This captivating and unsettling domestic thriller and psychological drama is deeply rooted in today's divided French society, but equally relevant to our own. I look forward to hearing your views. Join the discussion next Thursday at 2pm. I also welcome your emails with comments, if you are not able to join the group discussion.
Watch the trailer: https://www.youtube.com/watch?v=Lum0x9-zaSc
Week 3: Let it Be Morning
(Israeli Feature, Directed by Eran Kolirin / Arabic, Hebrew,    min)
"A wry, low-key satire of Israeli Palestinian tensions from the director of "The Band's Visit'" (Variety)
Winner of eight Israeli Film Academy awards and special mention at the Cannes Film Festival.
Sami lives in Jerusalem with his wife and kid. An invitation to his brother's wedding forces him to return to the Arabic village where he grew up. After the wedding, with no explanation, the village is put under lockdown by Israeli soldiers. Chaos rises overnight amongst those stuck within the walls. Cut off from the outside world, trapped in an unexpected situation, Sami watches as everything falls apart. Based on the novel by leading Palestinian-Israeli author and screenwriter Sayed Kashua (whose credits include Shtisel and Arab Labor). Born on 1973, in Tel Aviv, Eran Kolirin's feature film debut as a director, The Band's Visit (2007), thrust him into the international spotlight, winning critical acclaim and over 50 prestigious awards from around the globe, including eight Israeli Film Academy awards, two awards and a special mention at the Cannes Film Festival and two European Film Awards.
Week 4: The Automat
(Documentary, Directed by Lisa Hurwitz / English 90 min)
Who remembers the joy of eating at Horn and Hardart?? I do, and I bet many of you do, too. Director Lisa Hurwitz offers us an intimate and evocative look at the 100-year story of this iconic and singular restaurant chain, the inspiration for Starbucks. Aside from that claim to fame, the automat was novel in many ways, and a fun place to frequent. You got your food from glassed boxed compartments on a wall, dispensed coffee from a dolphin spigot, and sat at communal tables with diverse clientele – men and newly-employed women, people of different races and economic strata. The automat was, indeed, closely linked to socio-economic trends in American history, as food always is. Hear the stories of former customer like entertainer Mel Brooks, Supreme Court Justice Ruth Bader Ginsburg, Secretary of State Colin Powell, the Horns, the Hardarts, and key employees.
Of course, we'll have an opportunity to discuss our own experiences at the automats of Manhattan and Philadelphia, and to reflect on what we learn from the film.