Lifelong Jewish Learning is a core value upheld by FJC and Reform Judaism, both of which understand that developing and maintaining a personal and relevant connection to our Jewish heritage must be based on being educated and informed.
On any given day at Falmouth Jewish Congregation, there is active learning taking place. You might hear Hebrew, Yiddish, laughter, impassioned discussion, the soundtrack of a film, the voice of a teacher, the opinion of a student, the enthusiasm of a child, a passage of Torah in our worship service. Ours is an active and engaged community, indeed.
BEIT SEFER (Youth Education)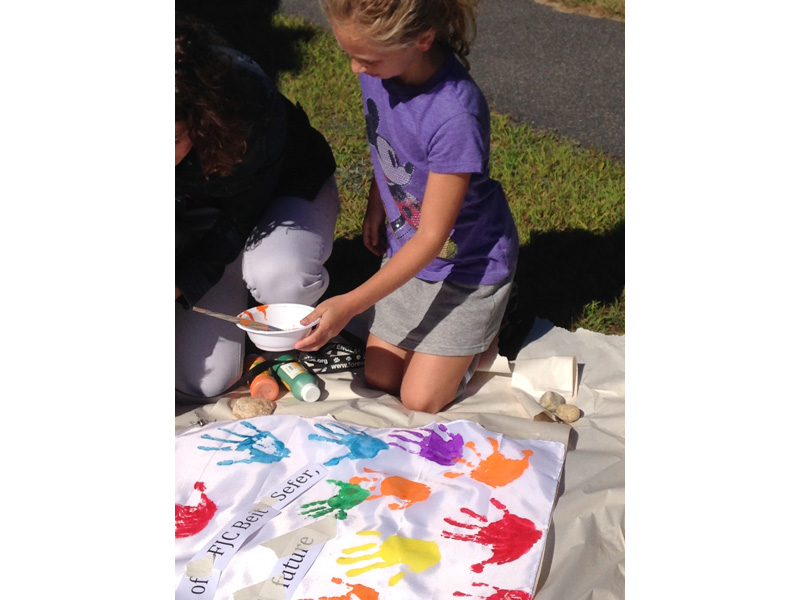 Nurturing a love of Judaism amongst our youngest members and their families is a core value of FJC. Beit Sefer's mission is to provide Jewish education and community to children and their families in a fun and engaging manner. It is a place where children and parents can find and nurture friendship with other Jewish families from various towns on the Cape (the Upper Cape provides the core group) and the South Coast. For our children, many of whom are the only or one of but a handful of Jews in their class, their school, or their community, FJC Beit Sefer provides more than an education. It is their Jewish home and family.
Hands on, hearts, on minds on. Our students experience Judaism in many ways: through the study of Hebrew, various topics in Jewish life and history (holidays, Jewish values and people who demonstrated them, Israel, the Jewish year, Jewish diversity, the American Jewish experience), by creating beautiful Judaica, and engaging in Tzedakah and Mitzvot.
Our b'nei mitzvah class learned about Jewish ethics under the guidance of Rabbi Lieberman and Director of Lifelong Learning Pamela Rothstein and create their original tallit and yad for use at the Shabbat service each child leads on becoming bar/bat mitzvah. We continue to find ways for our b'nei mitzvah students to interact with adult FJC members through the Dorot (generations) program, whose goal is to expose the students to varieties of Jewish perspective and engagement.
Engagement with Hebrew begins in early childhood and is firmly established with separate classes beginning in grade 3. From fourth through seventh grade, students study Hebrew twice weekly, working on skills for T'filah, Hebrew prayer, and enjoying some modern Hebrew as time permits in grade six. These years prepare them for a lifetime of worship, not just to lead a Shabbat service and read Torah when they become bar/bat mitzvah.
Tzedakah and tikkun olam (repair of the world) a core values of Beit Sefer and its mission to nurture these Jewish ethics and behaviors in a lasting manner – in other words, to create Mensches early on. Our children absorb this important lesson, giving regularly and generously of themselves. Beit Sefer supports the Falmouth Service Center through weekly collections of non-perishables, helping to maintain an awareness of hunger and other needs in our own community. Beit Sefer raises Tzedakah for one Jewish and one secular non-profit organization each year, providing over $2,000 in donations.